A life with full of emotion in the prosperous symbol in the Southern area of Sai Gon
A heaven on earth
Sunshine Sky City wins heart of "connoisseur circle" who is high society class of real estate in Sai Gon with a "splendid costume". It is a luxurious architecture with Low-E door and window system, one of the most expensive door and window system in the world. Low-E door and window system passes all rigorous standards of construction safety; furthermore, it can win hearts of the rich by its modern beauty and elegance.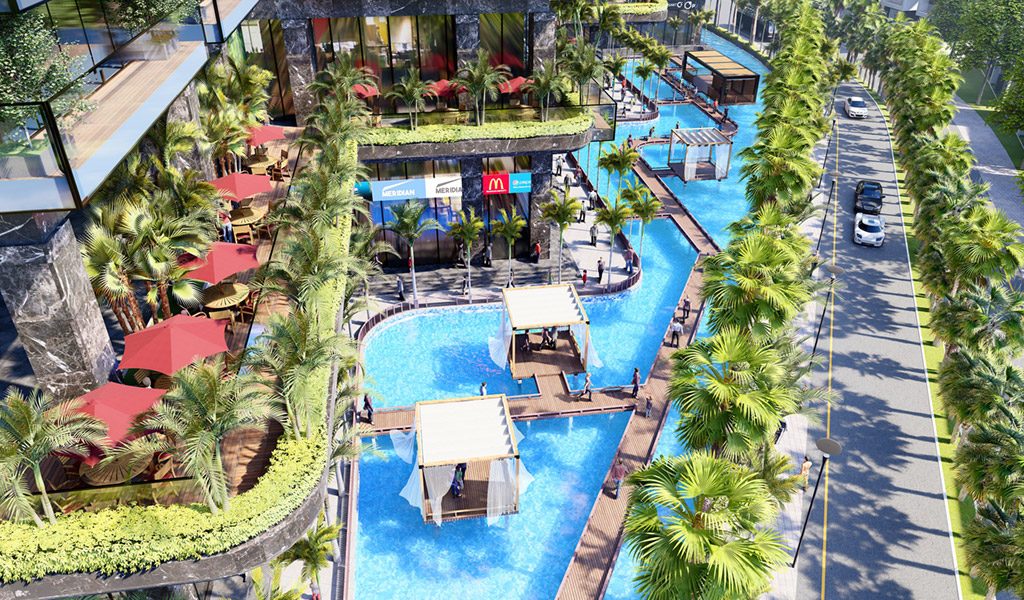 You may fall in love with Sunshine Sky City at your first sight; however, Sunshine Sky City is beautiful not only externally but also internally. Sunshine Sky City has calmly proved itself to be a "formidable" product because of being located right inside the richest and most civilized urban area of Sai Gon – Phu My Hung. The project is the place where you can find yourself a "365-day resort" right in the heart of Sai Gon.
Layer by layer of vast green spaces from trees, flowers, grass and large surface area of water that have make Sunshine Sky City become a fresh and pure ecosystem. In Sunshine Sky City, you can walk among the thousands of trees, breathe fresh and clean air and touch the light just through spaces between leaves.
It can be said that Sunshine Sky City is a unique project of Sai Gon because the Investor generously spends hundreds billion Vietnamese dong on a series of "water" utilities in order to turn this place into a miniature of "Maldives". Sunshine Sky City is ready to pamper your traveling feeling. The first to mention is the unique overflow waterfall, which flows vividly inside the project. Next, internal rivers, equalizing reservoirs are arranged throughout, adjacently the towers to create a spectacular view. You can stroll lightly on the pedestrian bridge across the water area, or enjoy a cup of coffee among the romantic space of trees and lakes. Are you emotionally living in the "Maldives" full of sunshine and wind?
Besides, in rooftop area, you can enjoy utilities that cannot be "better". Specifically, Rooftop Bar, Rooftop Café can bring you moments to enjoy a truly luxurious life. Furthermore, you can immerse yourself in cool water, sip warm wine in the infinity pool in the middle of the sky. Are these facilities of Sunshine Sky City worth for your experience?
A more integral life with a smart and Sunshine Homes styled "steward"
It is said that technology shall replace human being, however, Sunshine Sky City bring a totally new definition of "Smart housing". Specifically, the Investor not only installs smart devices but also "creates and programs"  a "smart steward" for all residents of this project.
"Sunshine steward" is thoroughly aware of and strongly supports owners' lives with a series of smart devices such as Face ID, smart speakers …. Let's imagine that when you enter security gates of the building, elevators shall immediately "identify" that and wait for taking you to your apartment.
The most surprising function of Sunshine Sky City is the function of "setting up" the extremely intelligent scenario. It is not necessary to use too much physical manipulation to set up a "returning home" scenario. Specifically, when you are driving, your air conditioner, lighting equipment, water heater in the bathroom and curtains are turned on and parking space is available for you.
When technology is crowned, Sunshine Sky City cannot be an outsider. The Investor has quickly caught up with the trend and pioneered to create a preeminent 4.0 lifestyle for residents of Sunshine Sky City. They are no longer the physical interactions but also the comprehension between homeowners and equipment in the apartment. It is a smart, modern but emotional life.
Special preferential policy in October
The investor is applying a special preferential program for ones who buy apartments of Sunshine Sky City in October. Specifically, customers will be given interior packages of up to 200 million Vietnamese dong when becoming the owner an apartment here. In addition, attractive preferential policies for customers who make fast payment are also applied in this phase.
Liên hệ hotline: 1800 6233
Website: https://skycity.sunshinegroup.vn/